Health Sciences Visual Identity
Logos
The University of New Mexico has been steadily rolling out the logo since it was officially approved in summer of 2017. By January 2018, UNM Health Sciences leadership had approved a new Health Sciences block logo and UNM Hospitals and clinical units logos. The approved design consists of the UNM monogram logo and individual department names.
A clear, concise visual image is the basis of our academic and health-related communication and marketing efforts. UNM's refreshed visual identity is an interlocking logotype that evolved from a long-standing Lobo favorite.
The UNM Health Sciences, UNM Hospital and clinics, UNM Sandoval Regional Medical Center and UNM Medical Group will be moving forward with the new logo. It is essential for health literacy, patient education and health-related research and academic communications to follow the University's visual identity to further strengthen our University family.
The primary UNM monogram logo is a standalone mark that represents the entire institution. Secondary to the monogram is a UNM Health Sciences block logo that can be used on social media, websites, print collateral and posters to represent the Health Sciences enterprise. 
UNM Monogram Logo
UNM Health Sciences Block Logo (horizontal)
UNM Health Sciences Block Logo (vertical)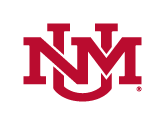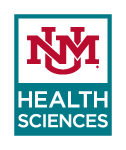 Each primary academic, research and clinical unit within the Health Sciences also has a logo. Examples of Health Sciences unit logos are shown below.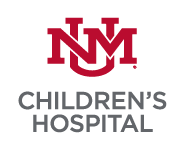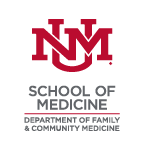 Collateral materials may use the Health Sciences block logo, an individual unit logo or a combination of the two.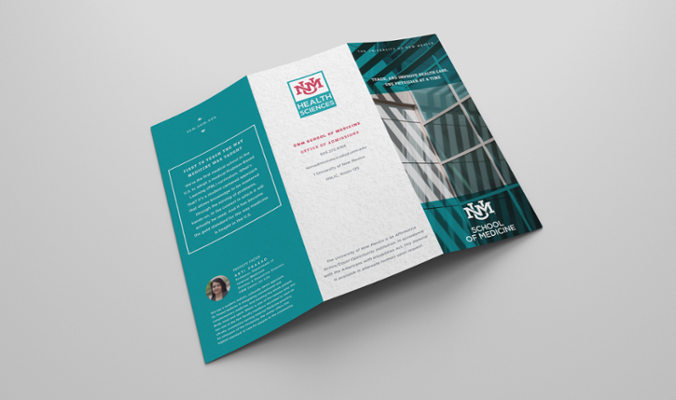 Brand Design
The key to building a successful brand is proper use of key elements: logo placement, color, graphic elements, typography, copy and brand messaging. It is essential that all materials distributed by the UNM Health Sciences maintain a high-quality appearance and embody the brand voice and style. The institutional brand highlights our strong sense of history while also embracing our future. The bold shadows and textures are based on the unique campus architecture, stucco and the strong colors of the southwest.
The UNM Health Sciences uses both turquoise and cherry as primary colors. By using the 80/20 rule (80% of the color can be turquoise and 20% can be cherry), departments can continue to use turquoise as its main color while supplementing it with cherry. The brand consists of Vitesse or Gotham typefaces, striking photos and correct logo usage.
Health Sciences stationery (business cards,letterhead and envelopes) reflects the standards of the institutional brand. Please refer to the HSC Style Guide for details, available for download in the Brand Asset Library.
Brand design workshops, necessary to receive brand fonts Vitesse and Gotham, and logo usage presentations are listed online.
For specific Health Sciences logo or branding questions, contact Sara Mota through the UNM brand ticketing system.
Health Sciences Unit Logos
Unit logos are created to represent schools, colleges, departments, and other units within UNM Health Sciences. A logo liaison in each unit is responsible for distributing logos and monitoring their use. 
All logo liaisons have attended a logo usage presentation and may request that you attend a logo usage presentation before providing you with their unit logos. Please contact Sara Mota to request a presentation.
**Please do not create a unit identifier on your own. If you would like a unit logo, please contact your logo liaison before contacting us. If your unit is not represented below, please contact Sara Mota with details about your needs.**
Logo Liasons